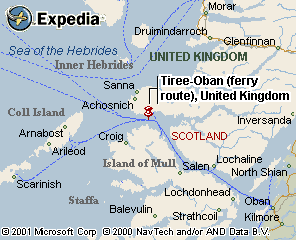 In the summer, the ferry operates daily and in the winter, Tuesdays, Thursdays, Saturdays and Sundays. For booking details, prices and timetable please contact: http://www.calmac.co.uk or telephone 00 44 (0)8705 650000. For overnight accommodation in Oban please contact the Oban Tourist Office - telephone 00 44(0)1631 563122.
Car hire is available on the island. For information and prices please contact: Maclennan Motors, telephone- 00 44 (0)1879 220555
There is also a ring and ride bus service. This service is available on demand anywhere on the island between 0700 and 1800 hrs Mondays to Saturdays with and extended evening service available on Tuesdays up to 2200 hrs. It can be used to provide connections to the ferry and airport as well as shopping trips or any other journey that you need to make. Anyone can use this service, to book a journey contact 01879220419. Journeys can be booked up to one week in advance or as late as one hour before the time of travel (subject to availability).